Welcome,
My name is Naomi. I love spending time in the kitchen, cooking, baking and spoiling family and friends. I have started this website and I would like to invite you to visit often and try some of my recipes.
Naomi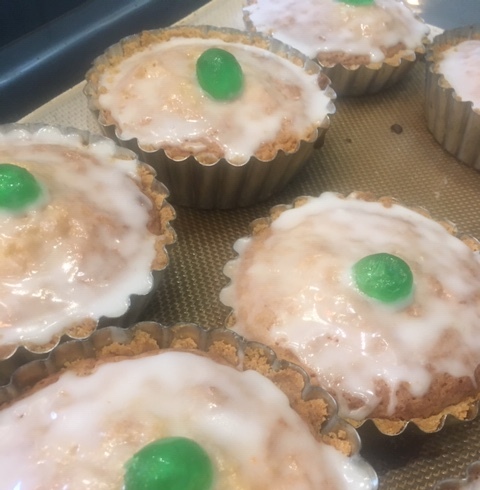 DUTCH ALMOND TART
(First published: Sunday, August 30, 2020)
Serves : 8
These almond tarts are such a treat and once you get going, quite easy to make. Give it a go.
Ingredients:
Crust:
½ cup (99gm) sugar
8 tablespoons (113 gm) butter, softened
¼ teaspoon salt
5 ml (1 teaspoon) vanilla essence
¼ teaspoon) almond essence
1½ cup (177 gm) cake flour
¾ cup (72 gm) almond flour
Filling:
4 tablespoons (57gm) butter, softened
¼ teaspoon salt
1 cup (198 gm) sugar
2 tablespoons (14 gm) cake flour
1 teaspoon vanilla essence
¼ teaspoon almond essence
3 large eggs
1¼ cup (120gm) almond flour
Glaze:
1 cup (113gm) icing sugar
2 tablespoons milk
glazed cherries for garnish
Preparation:
Preheat the oven to 180 ºC. Grease 8 mini loose bottom tart pans.
1. Make the crust. Beat together the butter, sugar, salt and essence.
2. Add the cake and almond flour and mix to make crumbs that cling together when squeezed.
3. Press the crumbs into the bottom and up the sides of the tart tins. Freeze the tart crusts for 15 minutes. Bake them for 15 minutes until starting to brown.
4. Make the filling. Beat the butter, salt, sugar and essence well together. Stir the flours into the wet mixture and combine well. Spoon the filling into the crusts.
5. Bake the tarts for 25 minutes until the tops are browned. Remove from the oven and set aside to cool in the pans.
6. Make the icing. Stir together the icing sugar and milk until smooth. Spread the glaze over the tarts and garnish with a glaze cherrie.