Welcome,
My name is Naomi. I love spending time in the kitchen, cooking, baking and spoiling family and friends. I have started this website and I would like to invite you to visit often and try some of my recipes.
Naomi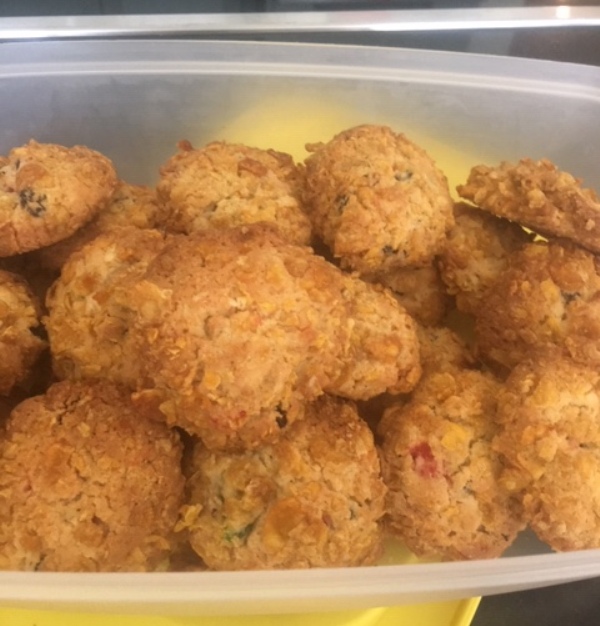 CORNFLAKE COOKIES
(First published: Thursday, February 28, 2019)
Serves : 24
These cookies are crunchy and studded with glace cherries, sultanas and almond splinters. Enjoy with a cup of tea.
Ingredients:
230 gm (250 ml) butter
175 gm (225 ml) sugar
2 eggs
10 ml (2 teaspoons) vanilla essence
275 gm (500ml) cake flour
10 ml (2 teaspoons) baking powder
pinch of salt
150 gm (250 ml ) sultanas
75 gm (125 ml ) glace cherries
50 gm (125 ml ) nibbed almonds
160 gm (4 cups) cornflakes, roughly crushed
Preparation:
Preheat the oven to 180 °C. Grease a baking tray.
1. Cream the butter and sugar. Add the eggs and vanilla essence and mix well.
2. Sift together the cake flour, baking powder and salt. Add to the creamed butter mixture with the sultanas, cherries and nuts. Mix to a dough.
3. Place the cornflakes in a large bowl. Spoon teaspoons of the dough into the cornflakes and roll into balls. Place the balls onto the baking tray giving each ball a bit of space to spread when baking. Bake for 15 minutes until golden brown. Cool on a wire rack. Store in an airtight container.