Welcome,
My name is Naomi. I love spending time in the kitchen, cooking, baking and spoiling family and friends. I have started this website and I would like to invite you to visit often and try some of my recipes.
Naomi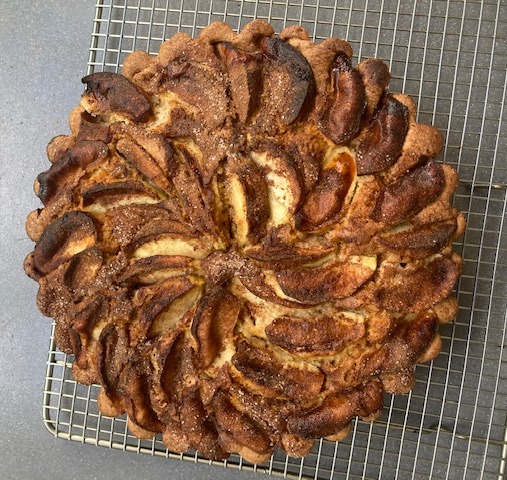 APPLE CINNAMON AND WALNUT CAKE
(First published: Monday, February 8, 2021)
Serves : 8
This apple cake is perfumed with cinnamon and the walnuts are an added crunchy treat. Serve at teatime with whipped cream if you want to indulge yourself.
Ingredients:
5 golden delicious apples, peeled and cored
lemon juice
500 ml (2 cups) cake flour
5 ml (1 teaspoon) cinnamon
5 ml (1 teaspoon) baking soda
2,5 ml (1/4 teaspoon) salt
3 eggs
250 ml (1 cup) sugar
75 ml (5 tablespoons) brandy
180 ml (3/4 cup) vegetable oil
5 ml (1 teaspoon) vanilla essence
¾ cup walnuts, roughly chopped
For dusting:
30 ml (2 tablespoons) sugar
5 ml (1 teaspoon) cinnamon
Preparation:
Preheat the oven to 180 ºC. Grease a 24 cm loose bottom cake tin.
1. Cut 3 apples into 1 cm dice. Slice the remaining apples into 8 wedges each and sprinkle with lemon juice. Set aside.
2. Sift the dry ingredients.
3. Using an electric mixer, beat the eggs, sugar, brandy and vanilla essence until pale and thick. Add the oil and beat a further 3 minutes
4. Fold in the flour and mix well. Fold in the diced apples and walnuts.
5. Transfer the batter to the baking tin and arrange the apple wedges in a flower pattern in the centre of the cake. Sprinkle with the cinnamon sugar.
6. Bake for 60 minutes until a skewer inserted in the middle of the cake, comes out clean.
7. Cool for 15 minutes and then release the cake from the baking tin. Leave to cool completely.