Welcome,
My name is Naomi. I love spending time in the kitchen, cooking, baking and spoiling family and friends. I have started this website and I would like to invite you to visit often and try some of my recipes.
Naomi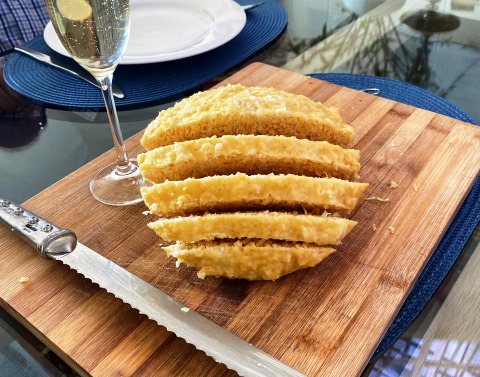 STEAMED MIELIEBROOD
(First published: Thursday, May 21, 2020)
Serves : 4
We made steamed mieliebrood yesterday and were very pleased with our efforts. We had green mielies that was getting quite dry and I remembered my grandmother mincing the mielie kernels, mixing a batter and steaming it for 2 hours. We gave it a go. Delicious. Serve it warm with lots of butter.
Ingredients:
3 cups green mielie kernels (about 3 mielies)
2 eggs
20 ml (4 teaspoons) cake flour
10 ml (2 teaspoons) baking powder
15 ml (1 tablespoon) butter
15 ml (1 tablespoon) sugar
2,5 ml (1/2 teaspoon) salt
Preparation:
1. Cut the kernels off the cobs. Mince them in a food processor until fine, but not pureed totally smooth. Mix the mielies with the remaining ingredients.
2. Tip the batter into a greased round pyrex pudding bowl that fits into a big saucepan. Cover the bowl with greaseproof paper and secure it with string. Place 4 chopsticks on the bottom of the saucepan. Place the pudding bowl onto the chopsticks. That will stop the bowl from rattling while it is steaming.
3. Pour hot water into the saucepan so that it comes halfway up the sides of the pudding bowl. Put on the lid and steam gently for 2 hours. Watch the water level and top up if necessary.
4. When cooked, turn out the bread and serve at once.