Welcome,
My name is Naomi. I love spending time in the kitchen, cooking, baking and spoiling family and friends. I have started this website and I would like to invite you to visit often and try some of my recipes.
Naomi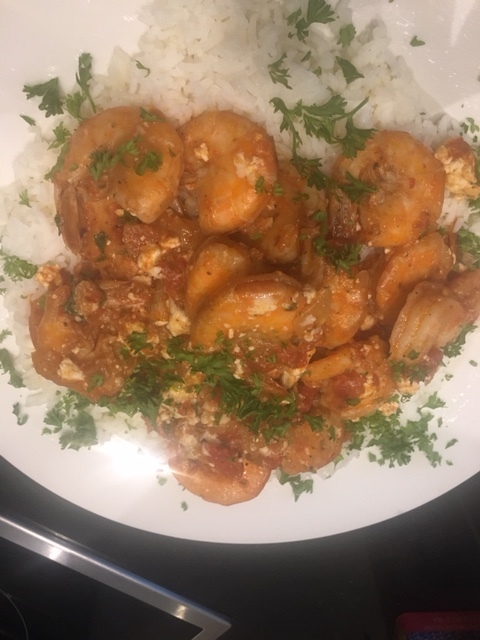 PRAWN AND FETA SAGANAKI
(First published: Sunday, December 23, 2018)
Serves : 4
This delicious and easy dish is Greek cuisine at its best! Who could think that feta cheese would pair with prawns is such a delightful way. Serve with lots of crusty bread.
Ingredients:
24 large prawns
60 ml (1/4 cup) butter
30 ml (2 tablespoons) olive oil
1 red onion, finely chopped
1 red chilli pepper
2 cloves garlic
2,5 ml (1/2 teaspoon) sweet paprika
60 ml (1/4 cup) Ouzo
salt and freshly ground black pepper to taste
200 gm feta cheese, roughly crumbled
30 ml (2 tablespoons) fresh parsley, finely chopped
Preparation:
1. Peel and clean the prawn. Lightly salt the prawns and mix with a dash of olive oil. Set aside while you prepare the sauce.
2. Heat the olive oil in a saucepan and sauté the onion for 4 minutes. Add the chilly, garlic and paprika and sauté for 2 minutes. Add the chopped tomatoes and stir well. Simmer for a few minutes until the sauce is slightly thick. Taste and season but remember that the feta cheese is quite salty. Remove from the heat and when ready to serve, cook the prawns.
3. Heat the oven grill.
4. Cooking in batches, heat butter in a big frying pan that can go under the grill and quickly fry the prawns until pink and just cooked. As the prawns are ready, remove from the pan and cook the next batch. When all the prawns are cooked, deglaze the frying pan with Ouzo and stir well to get all the brown bits into the reduction.
5. Add the tomato sauce to the frying pan and mix well. Correct the seasoning. Toss the prawns into the sauce and crumble the feta cheese over the top. Pop the pan under the grill for a few minutes until the feta starts to melt and go brown.
6. Serve at once with the parsley sprinkled over.