Welcome,
My name is Naomi. I love spending time in the kitchen, cooking, baking and spoiling family and friends. I have started this website and I would like to invite you to visit often and try some of my recipes.
Naomi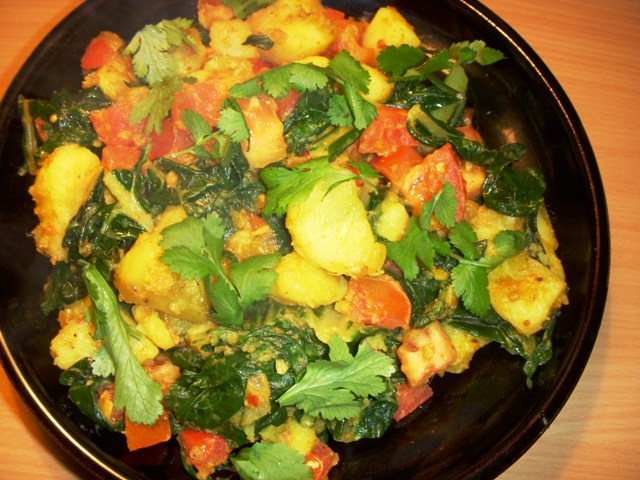 SPINACH AND POTATO CURRY
(First published: Friday, December 04, 2020)
Serves : 4
The curry is mild and spicy and very good served with basmati rice and a tomato salad.
Ingredients:
1 large onion, chopped
3 cloves of garlic, finely chopped
5 ml (1 teaspoon) fresh ginger, finely chopped
30 ml (2 tablespoons) vegetable oil
5 ml (1 teaspoon) cumin seeds
2,5 ml (1/2 teaspoon) turmeric
2,5 ml (1/2 teaspoon) chilli powder
4 large potatoes, peeled and cut into large cubes
125 ml (1/2 cup) water
400 gm baby spinach
90 ml (6 tablespoons) cream
5 ml (1 teaspoon) garam masala
salt and freshly ground pepper to taste
Preparation:
1. Heat the oil in a sauce pan and add the cumin seeds. When they start to pop, add the onion and sauté over medium heat until the onion is translucent. Add the garlic and ginger and sauté for a minute. Add the turmeric, chilli powder and a bit of salt with the potatoes and sauté for 5 minutes. Add the water, cover and simmer until the potatoes are tender. You may need more or less water
2. When the potatoes are tender, add the cream and the spinach. Cook with the lid off until the spinach wilts. Add the garam masala and correct the seasoning. Serve with basmati rice.