Welcome,
My name is Naomi. I love spending time in the kitchen, cooking, baking and spoiling family and friends. I have started this website and I would like to invite you to visit often and try some of my recipes.
Naomi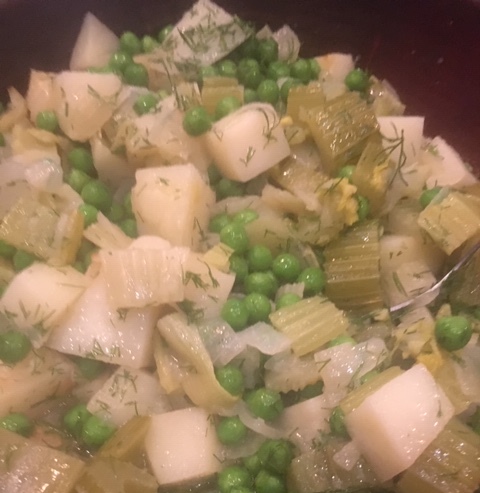 CELERY WITH PEAS
(First published: Thursday, October 10, 2019)
Serves : 6
In this recipe celery in braised with onions and potatoes and then finished with fresh dill and a squeeze of lemon juice.
Ingredients:
1 kg celery cut into 1 cm slices
juice of 1 lemon
125 ml (1/2 cup) light olive oil
2 onions, chopped
1 large potato, cut into chunks
1 ½ cup frozen green peas
15 ml (1 tablespoon) fresh dill, finely chopped
5 ml (1 teaspoon) sugar
juice of 1 lemon
salt and ground black pepper to taste
Preparation:
1. Blanch the celery in boiling water to which the lemon juice has been added. Drain and rinse under cold water.
2. Heat the oil in a saucepan and add the onions. Cook until translucent. Add the potatoes and celery together with 1 ½ cups water. Simmer for 20 minutes until the potatoes are tender.
3. Add the frozen peas and heat through. Add the sugar and dill and correct the seasoning. Serve at once.